A Melbourne road trip to Adelaide via the Great Ocean Road can be done over 5 days, easily seeing the best of the Ocean Road highlights.
Our self-drive itinerary includes driving via Robe and Victor Harbour though a side trip to include The Grampians could be included.
This guide will help you plan a holiday between Melbourne and Adelaide over 5 days, but can easily be adapted to spend more time along the way.
Melbourne to Adelaide Distance & Drive Times
The drive times listed below do not include the many viewpoints and stops that can be made along the way but provide a realistic daily travel plan to follow as a guide.
| Destination | Drive Time | Km | Miles |
| --- | --- | --- | --- |
| Melbourne to Apollo Bay | 3 hr 4 min | 222 km | 138 miles |
| Apollo Bay to Port Campbell | 1 hr 33 mins | 98.2 km | 61 miles |
| Port Campbell to Port Fairy | 1 hr 17 mins | 93.4 km | 58 miles |
| Port Fairy to Robe | 3 hr 9 mins | 291 km | 181 miles |
| Robe to Adelaide via Victor Harbor | 5 hr 6 mins | 439 km | 273 miles |
Day 1 Melbourne to Apollo Bay or Cape Otway
The drive from Melbourne to Apollo Bay is just over 3 hours, there is a lot to see along the way though. The first town on the Great Ocean Road is Torquay, home to a number of surf outlet shops as well as the National Surfing Museum.
Use our map of the Ocean Road route to find plenty of stops to make along the way. Go on a virtual journey, watch our videos of the drive along the Ocean Road.
Visit Bells Beach, home of the Rip Curl Surf competition since 1963.
Drop into the Chocolaterie and indulge.
Visit Split Point Lighthouse or go for a horse ride perhaps.
Stop in Lorne for lunch.
See Koalas at Kennett River, between Lorne and Apollo Bay.
An extra night could be included by staying in the lively town of Lorne and then onto Apollo Bay the next day as there are plenty of things to do in the area, such as bushwalks and waterfalls.
Apollo Bay Accommodation
Apollo Bay is an awesome little town with a wonderfully long, safe, beach. It is the second-largest along the Great Ocean Road, but small enough to still feel relaxing and with a large selection of accommodation to choose from.
If you prefer the idea of staying away from a town, Cape Otway is a perfect alternative. The historic lighthouse has accommodation and nearby Bimbi Park is a fab little campground where koalas hang out in the trees above campers. Find accommodation in Cape Otway.
Day 2 Apollo Bay to Port Campbell & The 12 Apostles
Not far from Apollo Bay and before the Cape Otway turn off, is Maits Rest Rainforest Walk. It is only a short stroll but gorgeous with really old Myrtle Beech trees.
The drive from Apollo Bay to Port Campbell National Park, home of the famous Twelve Apostles rock stacks, goes through tall forest and farmland before climbing up to the highest point of the Great Ocean Road at Lavers Hill. It is then less than an hour to the 12 Apostles where there is plenty to see.
Waterfalls and Rainforest Drive
If you have time and an extra day to spare, from Lavers Hill, turn right to visit Triplet Falls, The Otway Fly Tree Top Walk and a number of other waterfalls and bushwalks. Find more info on the Otways and waterfalls area here and browse accommodation if you want to stay a night in the area.
As an alternative to the direct drive from Apollo Bay to Lavers Hill, you can also follow Skene's Creek Road and Turton's Track through the Otways. It is a really good drive, though has a lot of winding road and some unsealed sections.
There are a few free campsites up in the area near the waterfalls too.
Accommodation in Port Campbell
The little fishing village of Port Campbell has more choices of accommodation that anyone might expect. Luxury apartments, backpacker hostel, and camping. Find the best accommodation to stay here.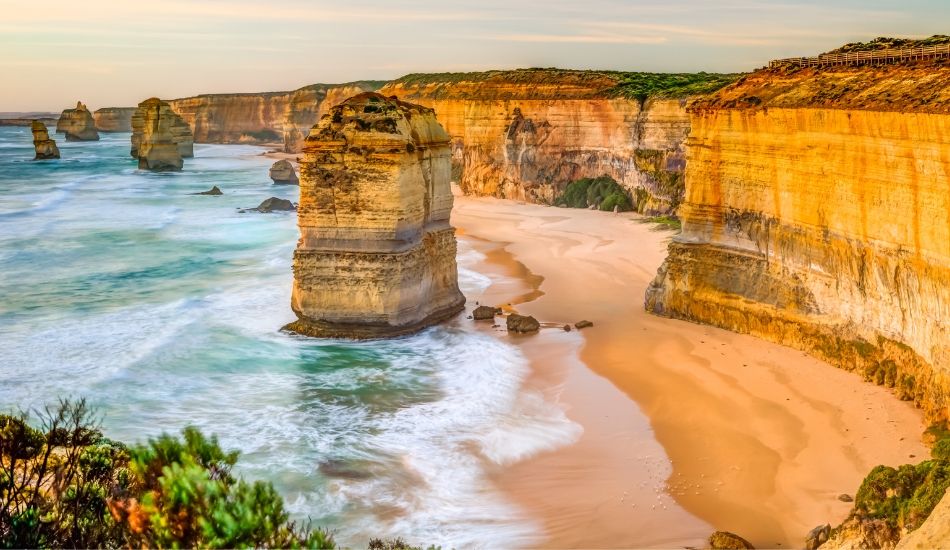 Day 3 Port Campbell to Port Fairy
Maybe start the day by watching the sunrise at the 12 Apostles before heading off to Port Fairy. Once you leave Port Campbell, there are still a few more sights to see before the Great Ocean Road ends near Allansford.
The Arch – Another good spot to stop, see the slow erosion of the limestone coast.
London Arch – formerly known as London Bridge before an arch collapsed, unexpectedly, into the sea in January 1990.
The Grotto – Definitely worth a stop, one of my favorite spots.
The Bay of Martyrs and Bay of Islands.
Once the Great Ocean Road drive has ended, there is still a lot to see and do before reaching the sweet little fishing town of Port Fairy.
Port Fairy Accommodation
Port Fairy is a really pretty town and a lovely place to spend a night or two. One of our favorite places to stay is the family-friendly Belfast Cottages. The gorgeous little self-contained cottages cater to all travelers and the indoor pool plus playground area will keep kids happy for hours.
Find more choices of accommodation in Port Fairy and the best prices.
Day 4 Port Fairy to Robe
Mt Gambier is on the way to Robe and is definitely recommended as a place to visit. Maybe stop for lunch by the famous 'Blue Lake' or at the Umpherston Sinkhole.
Alternative Route – Visit Naracoorte Caves
The Naracoorte Caves are part of the 800,000-year-old Naracoorte East Range. They are South Australia's only World Heritage-listed attraction and an important fossil site.
Rather than drive direct to Robe from Mt Gambier, a diversion to the caves might be of interest too.
Accommodation in Robe
Robe is a really popular seaside holiday town. Great fishing, lovely beaches, and more than 80 historic buildings make Robe an ideal place to stay a night.
Day 5 Robe to Adelaide via Victor Harbour
Last day on the road trip, unless you have time to spare and maybe want to cross the water to Kangaroo Island!
From Robe the road follows close to the coastline and passes the Coorong National Park, setting for the movie 'Storm Boy' and a beautiful region.
Victor Harbor, perhaps best-known for the horse-drawn carriage that crosses the causeway to Granite Island, is another visit-worthy town in South Australia.
Victor Harbor to Adelaide
The drive from Victor Harbor to Adelaide is only 1 hour 15 mins, it goes across the Fleurieu Penninsula where there is certainly more to do and discover including wineries, beaches…
Adelaide Accommodation
Often referred to as the City Of Churches, Adelaide has more of a large country town feel to it.
Find somewhere to stay before the next part of your adventures…