Great Ocean Road Touring Route – 6 Days
The Great Ocean Road drive, Victoria, can easily take 6 days or more. We have dozens of awesome beaches, beautiful waterfalls in the Otways, bushwalks, and loads of activities from surfing to treetop adventures, all culminating in the highlight of the famous 12 Apostles in the Port Campbell National Park– there is no shortage of natural attractions and things to do when going on a Melbourne road trip down the coast.
Overnight Accommodation – Great Ocean Road Trip
Where to stay – These are our suggested overnight stops for a 6-day Great Ocean Road trip, depending on whether you aspire to indulge in luxury accommodation, a budget motel room, self-contained cabin options, or to camp, there is something for everyone on a Great Ocean Road holiday.
For people who prefer to free camp, head into the Otway Ranges for some great campsites.
Lorn x 2 nights ACCOMMODATION
Lorne has some of the best waterfalls nearby, great hikes, a zip line adventure park and it's a terrific little seaside holiday town with a beautiful beach and tonnes of places to stay and eat, 2 nights (at least) in Lorne will be ideal. Read more about the best things to do in Lorne.
Lorne Luxury Accommodation
'Lorne Luxury' is a stunning holiday home over 3-levels with lots of panoramic windows and three balconies to enjoy the views of the ocean. Suitable as a romantic escape, a place to relax with a few friends or as a luxury stay with your family. Read more about this beautiful home and get the best price for accommodation.
Lorne Holiday House – Historic Victorian Beach house
'Springlea at Lorne' is a gorgeous holiday home set right in the main area of Lorne. This beautifully restored historic property has 5 bedrooms and can accommodate up to 17 people. Read more about Springlea and find the best prices.
Lorne Bush Cottages
Set in the bush but really close to Lorne town center, these little cottages are delightful. With a dorm area as well, the Bush Cottages suit backpackers, budget travelers, and small families too. Find out more and get the best price for your holiday.
Air BnB – Unique Stays
Lorne has some amazing, unique stays listed on Air BnB. Browse some of our favorites, including dog-friendly options.
Lorne Camping
The camping and caravanning sites in Lorne are all council-run and in fabulous locations. Holiday cabins can also be rented. Find out more here.
*Pet-friendly out of peak season, please check when booking.
Dog-friendly accommodation in Lorne
Cedarwood Holiday Park, about 20 minutes' drive from Lorne in the little township of Pennyroyal, Cedarwood has a pet-friendly holiday cottage. An enclosed dog run is available and house-trained pets can go indoors.
The Cedarwood Holiday Park owners can even provide agistment for people who might like to bring their horse along for a holiday and ride on the many bush trails of the Otway Ranges.
APOLLO BAY X 2 NIGHTS ACCOMMODATION
Apollo Bay is a perfect place to spend at least a night or two. Choose from luxury boutique accommodation, motels, holiday homes, and great camping options.
From your holiday base in Apollo Bay it is easy to self-drive a loop of the local area as a day trip to see The Otways and waterfalls, the Otway Fly Treetop Walk, and the Cape Otway historic lighthouse, then return for another night.
Luxury Accommodation in Apollo Bay
The Apollo Bay Guest House is an opulent and beautifully furnished guesthouse that should delight anyone looking for luxury as well as a practical place to stay along the Great Ocean Road. Cooking facilities, landscaped gardens, sea views, and a peaceful location. Find out more about this luxury accommodation.
Apollo Bay Accommodation – Motel
The Seaview Motel and Apartments is one of our favorite stays in Apollo Bay. Stylish, well located, plus great for singles, couples, or families.
Backpacker Budget Accommodation
The Apollo Bay Eco YHA Retreat is a popular budget choice for singles, couples, friends, and families too. Find the best options and prices to stay at the YHA.
Unique Air BnB Stays in Apollo Bay
Apollo Bay has lots of awesome Air BnB stays to discover. Browse some of the unique properties.
Camping and Caravanning
Choose from the local Big 4 Holiday Park or the Apollo Bay Recreation Reserve where you can pitch a tent, stay in an onsite caravan, or bring your own RV, motorhome, or camping trailer. More info here…
Dog-friendly accommodation in Apollo Bay
Beeches by the Sea offer pet-friendly accommodation as well as beautiful accommodation for all travelers.
Beeches have two villas and they are just 250 meters from the beautiful beach.
PORT CAMPBELL X 2 NIGHTS ACCOMMODATION
Driving from Apollo Bay to Port Campbell is incredible, the famous Twelve Apostles are the biggest attraction. Two nights in Port Campbell will give plenty of time to explore and perhaps see the Apostles at sunset/sunrise too.
Port Campbell is a lovely little fishing village and a great base for visiting the 12 Apostles and all the cliffs, gorges, walks, and stunning beaches in the area. These are some of our personally recommended favorite places to stay in Port Campbell.
| ROUTE | DISTANCE | TRAVEL TIME |
| --- | --- | --- |
| Melbourne to Torquay | 104.5 kilometres/ 65 miles | 90 minutes |
| Torquay to Lorne | 46 kilometres / 28.5 miles | 50 minutes |
| Lorne to Apollo Bay | 47.3 kilometres / 29 miles | 60 minutes |
| Apollo Bay to Lavers Hill | 51.4 kilometres / 32 miles | 50 minutes |
| Lavers Hill to 12 Apostles | 40 kilometres / 25 miles | 45 minutes |
| 12 Apostles to Port Campbell | 11.2 kilometres / 7 miles | 10 minutes |
| Port Campbell to Colac | 77.6 kilometres / 48 miles | 60 minutes |
| Colac to Melbourne | 152 kilometres / 94.5 miles | 2 hours |
| TOTAL TIME | | 8 HOURS DRIVING |
---

MELBOURNE TO LORNE via Torquay
Drive Time: 2 hr 5 mins / 149 km
Torquay is the first main town encountered along the Great Ocean Road. It's a very popular family destination for generations of Victorians and a great little holiday town. It has safe swimming beaches as well as the National Surfing Museum, Surfing gear outlet shops, and places to eat.
What to see between Torquay and Lorne
Bells Beach is close by to Torquay, home of the Rip Curl Classic Surf competition, held annually every Easter since 1961 (during the event there is no free public access along the road that leads to the beach or onto the beach).
A Chocolaterie may not be something one imagines when touring the Great Ocean Road – but this place is divinely decadent! Located on the main road between Bellbrae/Bells Beach and Anglesea, it's well worth stopping in as the regular food on offer is exceptional too. The Chocalterie has an 'older sibling' in the Yarra Valley that is just awesome too.
Pt Addis beach and wonderful walks like the pretty Koori Cultural Walk.
Split Point Lighthouse, Aireys Inlet.
Horse riding at Blazing Saddles... in the forest or along the beach.
Anglesea – hire a paddleboat or spot kangaroos on the local golf course.
Long golden beaches and surf spots, so many good reasons to take the journey slowly and relax.
The Great Ocean Road Memorial Arch, stop for a selfie and read the history.
Memorial Arch, Great Ocean Road
Lorne – 2 Nights
The busiest little town along the Great Ocean Road drive. Lorne has a beautiful beachfront with the forest coming right down to the back of the town. Lots of great cafes and restaurants, interesting shops and plenty of accommodation choices from campgrounds, to cottages and  4+ star resorts. Browse accommodation on Booking .com or find a unique stay Air BnB.
Things to do in Lorne
 Visitor Information Centre and Great Ocean Road Story display, well worth popping in to find out some fascinating history. 15 Mt Joy Parade.
The Lorne Historical Society, open on Sundays from 10-12, read more on their website.
Erskine Falls is an easy drive or a good hike, following the Erskine River from the town. Lots of other walks and waterfalls in the area too.
Plenty of fun can be had for kids on the foreshore which is one of the most popular Lorne attractions with a lovely beach, rock pools,  swimming pool, in-ground trampolines, a skate park, and playground.
Teddy's Lookout is an ideal spot for a few walks and super views down along the Ocean Road. Turn right at the Lorne hotel and drive up the hill, following the signs.
Read more about things to do in Lorne
LORNE TO APOLLO BAY
This is where the real fun begins, the road hugs the coast with a drop off to the ocean on one side and the Otways rising up steeply on the other side.
What to see between Lorne and Apollo Bay
From Lorne, it is approximately 1 hour to Apollo Bay… but with a number of worthy stops in between. These stops are directly off the main ocean road and most are clearly signposted.
Artillery Rocks – A favorite of ours. Popular for fishing, the rock formations are worth seeing. They are about 12.5 km's/under 20 minutes drive from Lorne (this is not signposted, but use the directions from the image below if you want to stop, one of our favorite spots).
Sheoak and Carisbrook Waterfalls are both easy walks that start from car parks along the Ocean Road. Clearly signposted.
A number of lookout points and parking areas provide views and beach access, some are suitable for long vehicles.
Kennett River and Koalas in the wild! The tiny community of Kennett River boasts possibly the best koala viewing in the area. Turn right towards the shop and then left up Grey River Road. Koalas can be anywhere here and it is a good spot for seeing the colorful King Parrots and Crimson Rosellas. Drive a couple of km's up the road to escape the crowds perhaps and look for koalas. Further up is the Grey River Reserve, a pretty picnic area and well known for viewing glow worms after dark.
Some good accommodation options are in the Kennett River area, for anyone wanting to stop over and maybe see the glow worms.
Apollo Bay – 2 Nights
Such a beautiful town for a holiday. Apollo Bay is not overdeveloped and has a super relaxed feel. The long golden beach, the pier where seals are often seen and fresh seafood is for sale. Rolling hills, and a lovely foreshore area with playground, information center, sculptures, free BBQs and walking tracks.
The town has a large number of accommodation choices from youth hostels to luxury apartments.
Caravan and camping parks in Apollo Bay offer a range of options from campsites, powered caravan sites, and cabins.
Things to do in Apollo Bay
Buy fresh seafood from the pier & maybe spot seals at the end of the pier.
Children's playground, skateboard park & Free BBQ's
Summertime Fairground and rides on the foreshore
Mariners lookout
Swimming on the beautiful long beach
BYO bikes and ride along the foreshore trail
Apollo Bay Cinema
Do the Waterfalls of the Otways and Otway Fly Tree Tops Walk day trip – details below.
Great Ocean Road Helicopter
The 'Great Ocean Walk' starts here, 8 days, and 100 km of adventure all the way to the 12 Apostles… Sections of the Great Ocean Walk can be done if you do not have time to spend doing the full 100kms.
Day Trip into the Otways – Waterfalls and Otway Fly Tree Tops Walk
Spend the second day in the area to experience even more of the mountains and coast. This circuit drive from Apollo Bay and return is a super drive on sealed and unsealed roads. It does involve a reasonable amount of narrow, winding unsealed sections.
To see every waterfall listed below and visit the Otway Fly it will require a very long day of adventuring. Depending on the time of year and whether you can get up and on the road early, decide for yourselves how much to do.
It will require about 11 hours to do everything, including 2 hours at the Otway Fly, driving time, and stopping for an hour for lunch. Picking a couple of waterfalls to visit and completing the circuit drive will be a great day out.
Another attraction in the Otways that is particularly good for families, is the Otway Park Trees Adventure course.
Food & Petrol
Fill up your tank in Apollo Bay as there is no fuel on this route. 
Pack a picnic or buy food from the cafe at the Otway Fly, The Beechy Pub in Beech, Forest, or the rather funky Otway NouriShed. Lavers Hill is the next option for a pit stop.
Waterfalls of the Otways – Driving Directions for a day trip
Drive 3km East from Apollo Bay back along the Ocean Road to Wild Dog Road and turn left, follow the road all the way to the Turtons Track junction.
Apollo Bay to Turton's Track Junction – 22km / 30 mins
Turton's Track Junction to Sabine Falls – 5.7km or 8.1km (two options) /12 mins
Sabine Falls – 

2-Hours / 3.6 km return. Moderate to a steep walking trail with steps. These are the highest waterfalls in the Otways at 130m. Mt Sabine is the highest point in the Otways.
RETURN THE SAME WAY TO THE TURTON'S TRACK JUNCTION TO CONTINUE THE DRIVE.
Turton's Track Junction to Otway Fly and then Triplet & Little Aire Falls car park – 28km / 40 mins
If you plan to do the Otway Fly Treetops walk, it takes about 2 hours and there is a good cafe there. We do recommend it.

Triplet Falls walk

– 1-hour / 2.1km loop

Little Aire Falls

– 2 hr / 5.2 km return
Triplet Falls car park to Beauchamp Falls – (retracing some of the routes) 15.2km / 25 mins
Beauchamp Falls Walk

– 1 hour / 3kms return
Beauchamp Falls to Hopetoun Falls – 7.5km / 15 mins
Hopetoun Falls Walk – Upper viewing platform – 20-meter walk | 30 mins / 1km – about 200 steps down.
Hopetoun Falls to Californian Redwood Forest – 1.3km / 3 mins
Time here – whatever suits, it is not a big area but pretty and worth having a picnic and relaxing.
Californian Redwoods to Great Ocean Road – via Binns Rd, all unsealed. 13.8km / 30 mins
Binns Road & Great Ocean Road Junction to Apollo Bay – 15kms / 16 mins
OPTIONAL – When you get back to the Great Ocean Road, either return to Apollo Bay or turn right and go about 5 minutes drive to Maits Rest Rainforest Walk or even to Cape Otway if time allows or do these on the way to the 12 Apostles the next day.
APOLLO BAY TO PORT CAMPBELL
The drive to the 12 Apostles area from Apollo Bay takes about 1hr 40 min. It passes through forest and farmland before returning to the coast and all the famous sights people come to see within the Port Campbell National Park.
What to see between Apollo Bay and Port Campbell
Maits Rest – 20 minutes drive from Apollo Bay, this is a beautiful, short walk on a good path through the rainforest. Stunning Myrtle Beech trees are a feature. The walk takes about 20 minutes.
Cape Otway – A deviation from the Great Ocean Road to Cape Otway is a pretty drive through Manna Gum Forest where koalas live. The historic lighthouse is good to see, there is a charge involved to do the tour. Read more here.  It is also possible to stay out at the lighthouse, find the best deals on accommodation.
Melba Gully – Another pretty rainforest walk just past Lavers Hill. Ancient Myrtle Beech Trees and a small cascade, the walk takes about 30 minutes. At night, this is a popular spot to see glow worms. Maybe stay nearby if you are keen to see them.
Moonlight Head – about 20 minutes past Lavers Hill is a place many people miss! A steep walk down to the beach at Moonlight Head rewards visitors with a classic scene of a ship's anchor embedded in the rocks. The result of the shipwrecks Marie Gabrielle (1870) and Fiji (1890). Accessible at low tide only
Princetown – A tiny township, very close to the Twelve Apostles. Princetown has a boardwalk to the beach, a cafe, and a fairly basic campground.
Port Campbell National Park & The Twelve Apostles
Read our guide to the 12 Apostles area for the best views, walks, and beaches to see.
Gibsons Steps – This is one of our favorite beaches. 88 steps cut into the limestone cliff face (a lot less than the 1000 Steps near Melbourne). Stunning views towards two of the famous rock stacks of the 12 Apostles. During storms or high tides, the steps may be closed off but the lookout platform is still worth stopping for.

Parking is extremely limited at Gibsons Steps. From the nearby 12 Apostles car park it is possible to walk 2km back to Gibsons Steps if you have been unable to park.

Twelve Apostles – It is a very short, 2-minute drive to the 12 Apostles car park from Gibson's Steps. Loads of free parking, plenty of space for caravans and motorhomes. Helicopter scenic flights leave from here and are highly recommended! Mid to late afternoon is the busiest time here. Staying overnight in Port Campbell will enable travelers to return for sunset or sunrise. The walk from the car park takes a couple of minutes to reach the viewing platforms.
Toilets and a basic cafe for drinks etc.
Helicopter Rides –  Book ahead to do one of these tours or just show up on the day.
Loch Ard Gorge – Named after one of the most famous shipwrecks along the coast, Loch Ard Gorge is… gorgeous. Walk to the 'Razor Back' formation, follow the shipwreck trail, and head down to the beach. Walks continue around the clifftop to the historic cemetery, Mutton Bird Island to the Blow Hole and further on to another beach. It is easy to spend a couple of hours exploring this area.
Return the next day to see more of the area perhaps.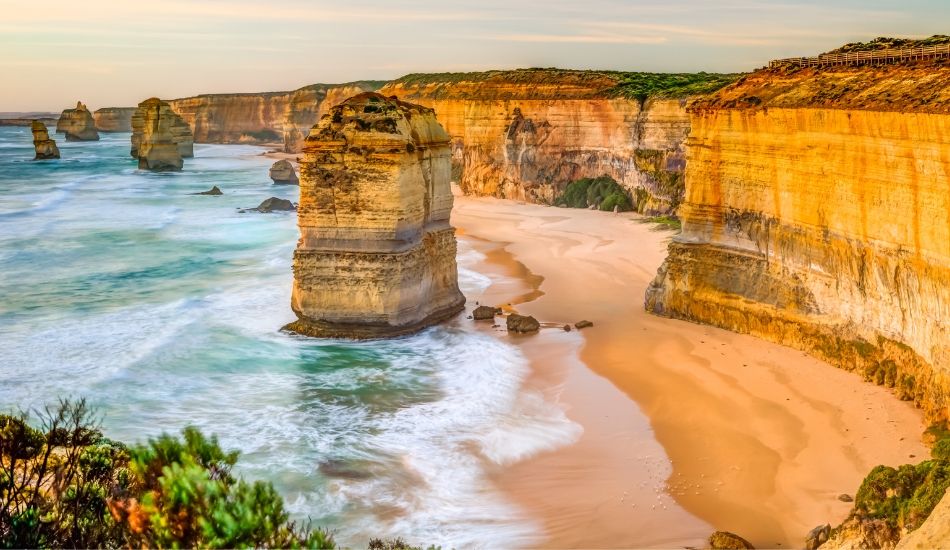 Port Campbell – 2 Nights
Port Campbell is a sweet little fishing village with good restaurants, a lovely beach, and a clifftop walk plus it's an ideal place to stay overnight or longer. Lots of accommodation options.
Not far from Port Campbell, on the road towards Warrnambool are more special places to visit.
The Arch (about 5 minutes from Port Campbell)
The Famous London Bridge, which fell down… (a few minutes past The Arch)
The Grotto – A sinkhole that is rather spectacular too. (another few minutes from London Bridge)
Things to do near Port Campbell
GORGE Chocolates GORGE Chocolates was established in 2004 in the countryside just minutes from the 12 Apostles.  A modest beginning soon gave way to a business appreciated by locals and tourists in the area.
Apostle Whey Cheese"Dairy farmers Julian and Dianne Benson launched Apostle Whey Cheese on October 29, 2005. Since that day, Apostle Whey Cheese has taken out a number of major cheese awards and become an important tourism drawcard for the region. Just a short drive from the Twelve Apostles and the Great Ocean Road, Apostle Whey Cheese is a genuine paddock to plate operation"
Timboon Distillery "The Timboon Railway Shed Distillery offers a distillery experience and daily lunch service in a location with a real 'sense of place'.  Both of our dining spaces are relaxing. Choose our covered and heated deck or the rustic and relaxed atmosphere inside the shed which is air-conditioned"
Experience Timboon and the Rail Trail by hire bike. The Crater to Coast Bicycle Hire service specializes in hiring out mountain bikes for a fun day in the outdoors. They also have bike trailers available so the whole family including your pets or kids can come along too.
PORT CAMPBELL TO MELBOURNE OR ONWARDS
The return to Melbourne via Colac takes 3 hours / 229 km  / 142.5 miles.
Or continue on the road trip and stay in Warrnambool, Adelaide, or the Grampian Mountains… Maybe follow the Melbourne to Adelaide route and keep traveling Australia.
| | | | |
| --- | --- | --- | --- |
| | Warrnambool | The Grampians | Adelaide |
| Port Campbell to | 62 km / 50 minutes | 209 km / 2.5 hrs | 664 km / 7.5 hrs |
Visitor Information Centres
Torquay Visitor Centre, 77 Beach Road
Lorne Visitor Centre, 15 Mountjoy Pde
Apollo Bay Visitor Centre, 100 Great Ocean Road
12 Apostles Visitor Centre, 26 Morris Street, Port Campbell,
Warrnambool Visitor Centre, 89 Merri Street
Pin for Later…